West losing Russian gold – Bloomberg
Other destinations have taken over Russia's bullion trade after the G7 and EU banned imports from the sanctioned country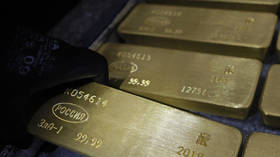 A number of countries are snapping up Russian gold bullion after Western governments closed their markets as part of Ukraine-related sanctions on Moscow, Bloomberg reported on Tuesday.
The G7, EU and Switzerland, a major gold hub with a traditionally neutral stance, banned Russian gold imports last summer in an effort to damage the country's $20 billion gold industry.
Prior to the sanctions, London was the top destination for Russian gold. Now, since major gold-buying banks such as JPMorgan Chase and HSBC Holdings stopped trading Russian precious metals, numerous small players from logistics companies to dealers have stepped in, Bloomberg wrote.
Exports from the sanctioned country have been rerouted to the United Arab Emirates, Hong Kong and Türkiye, which have not joined Western restrictions, the outlet said, citing data from trade-tracking firm ImportGenius, based on Russian customs figures for the six months through August.
Western sanctions have blocked Russian gold from their own markets and banned merchants from dealing with it. But companies in other countries are not prohibited from trading the precious metal as there are no secondary sanctions.
The UAE, which has become a hub for the precious metals trade between the East and West, has replaced the UK as the new top destination for Russian gold, with more than $500 million worth of bullion being exported there in the six months through August.
Russian gold worth about $305 million was tracked as passing through Istanbul airport between March and August last year, making Türkiye the second key endpoint of the precious metal.
Hong Kong-based financial company VPower Finance Security, which provides cash and gold for Chinese banks, handled more than $300 million of Russian gold shipments between March and August last year, according to ImportGenius tracking data.
Meanwhile, Russian gold miners boosted output by 26.5% year-on-year in March, according to the latest data from the Federal State Statistics Service (Rosstat). Gold production jumped by more than 30% compared to February. The first quarter figure was 9.1% higher than in the same period last year.
For more stories on economy & finance visit RT's business section
You can share this story on social media: