Air France seeks 'level playing field' with Chinese rivals – Bloomberg
The French airline has been forced to take longer routes due to being barred from Russian airspace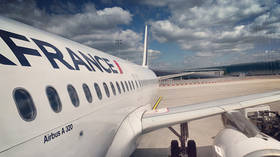 Air France, which has been struggling to compete with Chinese rivals since being banned from Russian airspace last year, wants the government to limit Chinese airlines' access to France, Bloomberg reported on Tuesday.
People familiar with the situation told the outlet that the French flagship carrier is arguing that Chinese airlines enjoy an unfair advantage, while others are forced to take longer routes to Asia to avoid flying over Russia.
Air France is looking to President Emmanuel Macron to introduce taxes or other measures that would create a similar cost base for the French company and Chinese competitors, the sources reportedly said.
Before the pandemic, France's leading carrier operated 32 flights per week to mainland China, compared to six per week scheduled for this month, the sources noted. The company is reportedly seeking to increase the number of weekly flights to 14 in July, pending Chinese government approval.
According to Air France, the need to bypass Russia adds two to three hours when flying from China, meaning extra fuel and staff costs.
"We support the ramp up of capacity between France and China but there needs to be a level playing field," an Air France spokesman was quoted as saying by Bloomberg. "Right now there is a distortion of competition which needs to be taken into account," the spokesman added.
Meanwhile, a government official told the outlet that France is seeking a "progressive and balanced" return of connections to China, noting that members of several French ministries plan to meet as soon as this week to discuss the matter. The French government has a 28.6 % stake in Air France.
Russia closed its airspace last year to airlines from more than 30 countries, including all 27 members of the European Union, in response to Ukraine-related Western sanctions targeting its aviation sector.
For more stories on economy & finance visit RT's business section
You can share this story on social media: