EU faces winter gas price surge – Bloomberg
Analysts expect a tight market until new supplies emerge after 2026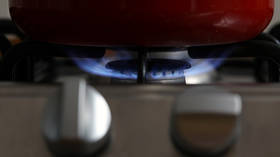 Prices for natural gas in the EU are expected to soar ahead of next winter, putting the bloc at risk of a renewed energy crunch, Bloomberg reported on Tuesday, citing industry analysts.
The cost of gas futures could exceed €100 ($110) per megawatt hour, or over $1,000 per thousand cubic meters, from the current €40 ($44) per megawatt hour, according to Goldman Sachs analyst Samantha Dart, as cited by the agency.
"Early winter cold is the scariest thing," she said in an interview on the sidelines of the Flame gas conference in Amsterdam, adding that prices above €100 were "very realistic."
The expert stressed that weak demand is expected to delay the rally that Goldman Sachs had previously predicted for August.
Last August, the cost of EU gas futures hit a record high of €345 ($380) per megawatt hour. However, a mild winter, efforts to reduce consumption, and weak Chinese demand for LNG sent prices lower to their current levels. But experts are uncertain about whether these factors will remain. Complacency among consumers, including industries, power plants and households, risks a market tightening later in 2023, they warn.
Analysts at major oil trader Vitol expect the market to remain tight until new supplies of liquefied natural gas (LNG) get to the market after 2026. The market "is going to be far more vulnerable to risks," head of short-term LNG trading at Vitol Stuart Sanders said.
Last year, Russian energy supplies saw a sharp drop due to Western sanctions. Deliveries were also affected by the sabotage of the Nord Stream pipeline, one of the main routes for Russian gas to Europe. In summer, European gas prices surpassed their historic peak price at €345 ($380) per megawatt hour.
For more stories on economy & finance visit RT's business section
You can share this story on social media: