Euro-area banks report record drop in mortgage loans
Lending was down amid perceived credit risks and rising interest rates, ECB research has found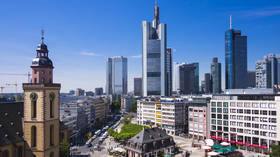 Banks across the eurozone have significantly curbed lending amid a continued increase in borrowing costs, according to a European Central Bank (ECB) survey released on Tuesday.
The report indicated that from a historical perspective, the pace of net tightening in credit standards in the first quarter of 2023 remained at the highest level since the euro-area sovereign debt crisis in 2011.
The ECB survey showed that the decline in net demand from enterprises was higher than in the previous three months, and the biggest since the global financial crisis.
"The tightening for loans to firms and for house purchase was stronger than banks had expected in the previous quarter and points to a persistent weakening of loan dynamics," the survey found.
The general level of interest rates was cited as the main driver of reduced loan demand amid monetary policy tightening by the ECB. Fixed investment also had a "strong dampening impact while the impact of inventories and working capital turned broadly neutral," after previously having a positive effect on loan demand. In the second quarter of 2023, banks expect a further, albeit smaller net decline in demand for loans to firms.
The net decrease in housing loan demand remained strong and close to the sharp net decrease in the fourth quarter of 2022, which was the highest since the start of the survey in 2003. It was driven by higher interest rates, weakening housing market prospects and low consumer confidence, according to the report.
In the second quarter of 2023, euro-area banks expect a further, though more moderate, net tightening for loans to households for house purchase and a further net tightening at a similar pace as in the first quarter for consumer credit.
The ECB has raised its benchmark interest rate at seven consecutive meetings since last July. This week it announced the latest hike of 25 basis points to 3.25%, as the regulator continues to fight soaring inflation.
For more stories on economy & finance visit RT's business section
You can share this story on social media: