German consumers spending less
The cost-of-living crisis has dented retail sales, an official report shows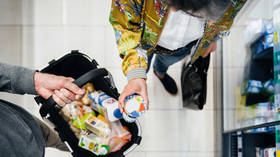 Germany's retail sales dropped in March, against market expectations, data published by the national statistics service Destatis revealed on Tuesday.
Price-adjusted retail turnover fell by 2.4% in March compared to February, despite a predicted 0.4% rise. On an annual basis, sales were down 8.6% in real terms following a 7.1% decline in February, according to Destatis.
Food sales plunged 10.3% in March in the largest year-on-year decline since data began in 1994. Food retail contracted 1.1% on the month, while non-food sales slipped by 2.3%, and online sales were down 8.4%. High prices remain a drag on inflation-adjusted retail data, but nominal sales have been falling as well, indicating a general slump in German household consumption.
"We doubt the downside surprise in the March retail sales report will lead to any revisions," analysts at Pantheon Macroeconomics warned.
Consumer spending was under pressure at the end of the first quarter in the EU's largest economy, consistent with a preliminary GDP and inflation report pointing to zero growth in the first three months of the year, market analysts say.
Economists are warning that Germany's loss of prosperity over the past year has resulted in weak consumption, and that the trend will likely persist. The cost-of-living crisis, which has eroded spending activity so far, shows little sign of abating.
For more stories on economy & finance visit RT's business section
You can share this story on social media: