Kremlin denies progress made on grain deal
Talks on extending the agreement have thus far not produced results, according to Dmitry Peskov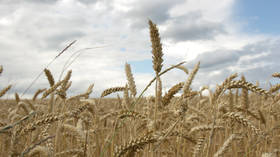 The window to extend the Black Sea grain deal is shrinking, the Kremlin warned on Tuesday, as it accused the West of failing to keep its side of the bargain to allow Russian agricultural exports.
Russian presidential spokesman Dmitry Peskov said talks were continuing between the various sides, but without any results.
"Russia's position is well known – the deal was extended for two months [in March]," Peskov told reporters. He added that "the terms of the agreement that concern Russia's agricultural sector are not being fulfilled."
The Kremlin official stressed that he was not able to say when, where, or how the negotiations would continue.
Citing an unnamed Ukrainian source, Reuters claimed earlier in the day that the parties to the deal would meet on Wednesday.
"All parties... hopefully there will be results," the source reportedly told the outlet.
The landmark agreement, initially brokered by the UN and Türkiye last July, allows the safe export of Ukrainian grain though the Black Sea. The produce is primarily intended for poorer nations whose food security is threatened.
The agreement also requires Western countries to unblock Russian grain and fertilizer exports.
Moscow has demanded that the Russian Agricultural Bank (Rosselkhozbank) be allowed to return to the international SWIFT payment system to facilitate purchases of imported agricultural machinery. Russia also wants insurance restrictions on agricultural shipments to be removed, port access for Russian ships and cargo to be reopened, and Russian fertilizer companies to be financially unblocked.
The Kremlin has repeatedly stated that not all parties have fulfilled their side of the agreement. Moscow has also complained that the majority of agricultural goods from Ukraine were being shipped to well-fed countries, rather than to nations at serious risk of food shortages.
In March, Moscow agreed to extend the deal by 60 days, warning that it will not do so again if other parties fail to honor all of its terms.
For more stories on economy & finance visit RT's business section
You can share this story on social media: