Indian banker describes dollar as 'financial terrorist'
Uday Kotak has urged New Delhi to try and make the rupee a reserve currency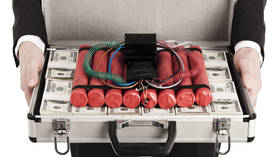 The US dollar has too much power as a reserve currency and the world desperately needs an alternative, billionaire investor and CEO of Kotak Mahindra Bank, Uday Kotak, said on Friday.
Speaking at the Economic Times Awards for Corporate Excellence 2023, the banker described the dollar as "the biggest financial terrorist in the world." As most global assets are held in dollars in so-called nostro accounts with US banks, they are entirely dependent on decisions made by American bankers and authorities, he explained.
"Somebody in the US can say: You cannot withdraw [this money] from tomorrow morning – and you are stuck. That is the power of the reserve currency," Kotak added.
The world is therefore "desperately looking for an alternative reserve currency," he continued, suggesting that India should seize the opportunity to make its own currency, the rupee, the reserve.
"It is our time for making a shot at it, which will take us probably 10 years," he stated. In order to achieve this goal, India must earn the trust of other global players by building strong financial institutions and a strong framework "that is not dependent on the whims and fancies of anyone." Kotak added that he does not see other strong contenders for the role.
"I don't think Europe can [make their currency the reserve], because its states are disunited. I don't think the UK or Japan have the heft to be taking that position, though both the British pound and the yen are free currencies. China, I think, has a major issue of trust with many countries around the world," he said.
In a tweet on Saturday, Kotak tried to further clarify his comments on the US dollar, explaining that he was referring to the overabundance of power that a reserve currency holds. This status gives such currency an ability to control global transactions, leading to situations where other countries may become dependent on it.
"In a recent discussion on [the] US dollar I inadvertently used [the] words 'financial terrorist' which I would like to correct. What I meant was that a reserve currency has disproportionate power, whether it is nostro account, 500 basis points rate increase, or emerging countries holding dollars for liquidity," he wrote.
For more stories on economy & finance visit RT's business section
You can share this story on social media: