EU reaches deal on Ukrainian food imports
Several Eastern European countries introduced bans earlier this month after protests by farmers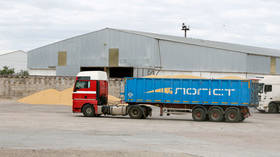 The European Commission on Friday struck an agreement with five EU member-states to help clear the supply glut caused by Ukrainian agricultural imports. The announcement was made on Twitter by EU trade chief Valdis Dombrovskis.
"The European Commission has reached an agreement in principle with Bulgaria, Hungary, Poland, Romania & Slovakia regarding Ukraine agri-food products. We have acted to address concerns of both farmers in neighboring EU countries and Ukraine," Dombrovskis wrote on the social media platform.
According to the official, the key elements of the new deal include the withdrawal of unilateral import restrictions previously placed by the countries on Ukrainian agricultural produce, a €100 million ($110 million) support package for the member-states' farmers, and "emergency safeguard measures" for four Ukrainian staples – wheat, maize, rapeseed and sunflower seeds. Dombrovskis did not elaborate on what these emergency measures would entail, but sources claim that the imports of these crops into the five Eastern European countries will likely be blocked unless for transit.
European Commission President Ursula von der Leyen welcomed the deal, saying that it would help guarantee the transit of Ukrainian produce.
"This agreement preserves both Ukraine's export capacity so that it continues to feed the world, and the livelihoods of our farmers," she tweeted.
In June last year, the EU lifted tariffs and quotas for Ukrainian agricultural imports for one year in order to enable grain from Ukraine to be shipped to global markets amid the conflict with Russia. Many of the shipments, however, ended up in Eastern European countries, flooding their markets with cheap produce and sparking protests among local farmers.
Earlier this month, Poland, Hungary, Slovakia, and Bulgaria unilaterally banned agricultural products imported from Ukraine in bid to protect their markets. While Romania had not imposed its own import ban, it joined the other four in urging Brussels to find a solution to the glut of Ukrainian produce. Import bans were deemed "unacceptable" by Brussels, as they undermined the bloc's single market rules.
The news of a deal on Ukrainian food imports followed a decision by EU ambassadors to extend Ukraine's tariff-free access to the bloc's market by another year. However, the extension is still subject to formal approval by the European Parliament and EU countries in the coming weeks.
For more stories on economy & finance visit RT's business section
You can share this story on social media: