Ukraine looking to grab more of Russia's oil revenues – Kommersant
Kiev reportedly plans to hike transit fees for Moscow by over 50%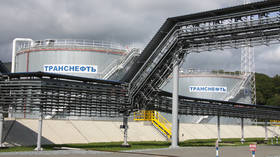 Kiev is preparing to significantly increase tariffs for transporting Russian crude oil to the EU through its territory via the Druzhba pipeline, business daily Kommersant reported on Friday.
According to the report from the Russian outlet, which cites the consultancy Argus and market sources, Ukrainian pipeline operator Ukrtransnafta has applied for a two-step increase in transit prices, by 25% from the current $14.90 per ton to $18.70 on June 1, and by an additional 23.5% to $23 on August 1.
Transneft, Russia's state pipeline transport company, confirmed to Kommersant having received notification from Ukrtransnafta of the tariff hike but said that it was not conducting negotiations with Kiev on the matter.
According to Kommersant's sources, Ukraine is currently negotiating the hike directly with buyers in Slovakia, Hungary, and the Czech Republic. However, any arrangements with them will have to be formalized with the Russian Energy Ministry and Transneft, experts say. The latter traditionally pays in advance for the transit of Russian oil through Ukrainian territory. The transit cost is included in the price of oil deliveries, and Russian oil companies, having received payment from buyers, reimburse Transneft for the transit.
The planned hike in transit costs will be the second this year, after Kiev raised the tariff by €2.10 per ton (18.3%) on January 1. Prior to that, the tariff was hiked twice last year.
Experts warn that overly frequent tariff hikes may bring oil transport via Druzhba to a halt, as buyers, despite not having many alternatives to Russian oil, may find the costs too high. According to Igor Yushkov, a professor at the Financial University under the Government of the Russian Federation, this scenario would hurt Ukraine, which relies on the transit fees.
Druzhba carries crude some 4,000km from Russia to refineries in the Czech Republic, Germany, Hungary, Poland, and Slovakia. Supplies via the route were not targeted by the EU embargo on Russian crude that was introduced late last year.
For more stories on economy & finance visit RT's business section
You can share this story on social media: