Italian firms bullish on Russia – industry group
Companies continue to defy outside pressure, the head of an entrepreneurial association has said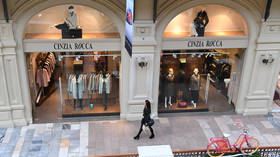 Italian companies will continue to operate in Russia despite "enormous" difficulties and pressure from the EU, the president of the Association of Italian Entrepreneurs in Russia, Vittorio Torrembini, told RBK on Tuesday.
Only two Italian companies have sold their businesses in Russia thus far, including state-owned energy giant Enel, Torrembini said without naming the second firm. "Except for the oil and gas sector, all others have stayed. Some [firms] have reduced the number of employees but nobody has left Russia," he added.
Enel, Europe's largest utility company, sold its entire 56.4% stake in PJSC Enel Russia in October to local giant Lukoil and the Gazprombank-Frezia investment fund for €137 million ($133 million). Enel is estimated to have lost more than €1 billion as a result of the deal.
Torrembini insisted that Italian businesses remain keen on the Russian market and have no plans to leave. He suggested that new investment plans are even being made, particularly in the construction and food retail sectors, but declined to disclose the names of the companies.
He acknowledged that firms working in Russia are facing "enormous" logistical, financial, and banking difficulties due to mounting pressure from Italian and EU authorities, but asserted that "our companies are strong enough to defy the influence of restrictions."
The Russian market is of great geopolitical and economic importance, Torrembini argued, stating that "this is not Nepal, this is Russia" – which explains why Italian companies are seeking to maintain their presence.
Fewer than 9% of companies from the EU and G7 nations that owned subsidiaries in Russia have left the country since the introduction of sanctions last year, according to recent research by economists from Switzerland's University of St. Gallen.
Nevertheless, a number of prominent international firms have stopped operating in Russia due to sanctions pressure. The list includes American, European, and Japanese automakers (Ford, Renault, Toyota), energy majors (ExxonMobil, Shell), banks (Deutsche Bank, Sociеtе Gеnеral, Citi), consulting firms (McKinsey, KPMG), retailers (IKEA), restaurant and hotel chains (McDonald's, Starbucks, Marriott), and clothing brands (H&M, Nike), among others.
For more stories on economy & finance visit RT's business section
You can share this story on social media: