India and Bangladesh ditching dollar in trade – media
The countries have reportedly agreed to settle a quota of transactions in their own currencies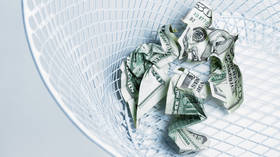 India and Bangladesh are moving away from using the US dollar in bilateral trade, the Bangladesh-based news website The Business Standard reported this week.
According to the report, the two countries have reached a deal that will see a part of trade transactions carried out in their respective domestic currencies, the rupee and the taka. New Delhi and Dhaka have reportedly been discussing the step for months.
However, they are not planning to ditch the dollar from trade completely, the news outlet noted. It is expected that exports from Bangladesh to India, which were about $2 billion in 2022, will be fully switched to rupees and takas, while $2 billion-worth of Indian exports to Bangladesh (out of roughly $13.69 billion as of the previous fiscal year) will be paid-for in rupees. The rest will continue to be paid in dollars, the news outlet states.
In order to facilitate the transactions, two of Bangladesh's banks, Sonali Bank and Eastern Bank, will open accounts with two Indian lenders, the State Bank of India (SBI) and ICICI Bank, and vice versa. Afzal Karim, CEO and managing director of Sonali Bank, told the news outlet that more banks from both countries will also gradually join the process. He noted that switching to domestic currencies in bilateral trade will help each country reduce pressure on its US dollar holdings.
According to Bangladesh-India Chamber of Commerce and Industry president Abdul Matlub Ahmad, who was cited in the report, there are still some procedural issues in switching from the US dollar to domestic currencies in trade. He noted, however, that businesses have for some time been calling on the central banks of the two nations to allow the switch, and welcome the decision.
"The procedural steps are being taken care of. However, it may take several months for [transactions] in taka and rupee to start," Matlub Ahmad added.
Earlier this month, India unveiled its new Foreign Trade Policy for 2023, whose centerpiece is shifting away from the dollar and boosting the use of the rupee in foreign trade. The country also recently agreed a switch to rupee-payment mechanisms for Iranian crude imports and trade with Malaysia. Overall, India currently has rupee trade mechanisms with 18 countries, including Russia.
For more stories on economy & finance visit RT's business section
You can share this story on social media: