Foreign firms leaving Russia face windfall tax – Bloomberg
The measure will come on top of existing laws that regulate the exit of companies, the outlet has reported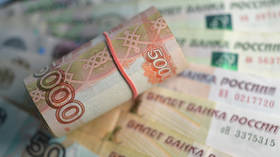 The Russian Ministry of Finance is preparing regulations which would oblige companies to pay a windfall tax on excess profits made in 2021–2022, Bloomberg reported on Thursday. In addition to domestic corporations, the tax could target firms that have left Russia amid Western sanctions.
According to the outlet, which cited people with knowledge of the plans, the levy could factor in prices negotiated as part of any divestment deals. The Finance Ministry did not respond to Bloomberg's requests for comment.
According to an earlier report by the Izvestia newspaper, the levy will target any businesses whose profits in 2021-2022 exceeded 1 billion rubles ($12 million). They will be charged 10% on any excess profits earned during that period compared with the preceding two years. The levy will take effect in 2024, but companies will reportedly be granted the option of paying in advance at half the rate.
The government is said to be hoping to collect some 300 billion rubles ($3.7 billion) from the tax. The levy is expected to affect only 0.1% of firms, and will exempt oil and coal companies, as well as liquefied natural gas (LNG) producers.
Analysts have suggested that banks and businesses involved in the chemicals, metals, and mining industries will bear the brunt of the new tax.
The levy would present another hurdle for firms leaving Russia, on top of existing laws that regulate divestment procedures. These include the requirement for departing companies to sell their Russian assets at a 50% discount, the need to obtain government permission for the sale, and a mandatory contribution to the Russian budget, amounting to at least 10% of half the market value of the company's assets in the country.
For more stories on economy & finance visit RT's business section
You can share this story on social media: