US debt default a matter of time – Musk
The billionaire's warning comes as the White House and Republicans in Congress are at an impasse over raising the debt ceiling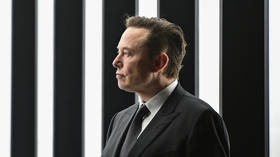 Tesla and Twitter chief executive Elon Musk, who has been calling for US government spending reductions, said on Wednesday that a debt default was just a question of time.
"Given Federal expenditures, it is a matter of when, not if, we default," Musk wrote responding to a Twitter post by the White House that the Republican plan may be to default on US debt.
Earlier this week, US House of Representatives Speaker Kevin McCarthy warned in a speech at the New York Stock Exchange that the US debt is unsustainable and poses a threat to the nation. He said that Republicans would not allow the country to default on its debt, taking a jab at President Biden for refusing to negotiate on cost-cutting measures.
McCarthy added that the House of Representatives would soon vote on a bill to raise the debt ceiling through 2023.
US President Joe Biden urged the Republicans to first release their proposed budget, with the White House stressing it would not negotiate the debt ceiling until the GOP releases its counterproposal to the administration's budget plan, which was put out in March.
Given Federal expenditures, it is a matter of when, not if, we default

— Elon Musk (@elonmusk) April 19, 2023
White House Press Secretary Karine Jean-Pierre alleged late last month that the Republicans were threatening to wreak havoc on US economy, saying that it was time for the GOP to "stop playing games" and agree to pass a "clean" debt ceiling bill.
In January, the Treasury Department notified Congress of the start of "extraordinary measures" until June 5 in order to continue paying the government's obligations as the US has reached its $31.4 trillion debt limit. Treasury Secretary Janet Yellen then called on lawmakers to "act promptly" to increase borrowing limits in order to avoid a default.
For more stories on economy & finance visit RT's business section
You can share this story on social media: