BRICS to surpass G7 in share of global economic growth – Bloomberg
The bloc of developing countries will be a larger driver of development than the Western Group of Seven major economies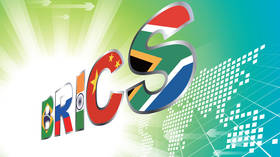 Members of the BRICS group – Brazil, Russia, India, China, and South Africa – are expected to outpace the US-led G7 in terms of their contribution to the world's economic growth, from this year, Bloomberg reported on Monday.
According to the outlet's calculations – based on the latest IMF data –the BRICS countries will contribute 32.1% of the world's growth, compared to the G7's 29.9%.
The Group of Seven nations (G7) – consisting of the US, UK, Canada, France, Germany, Italy, and Japan – has long been considered the most advanced economic bloc of countries on the planet. Russia was a member, until 2014, when it was expelled due to the fallout from the Western-backed Maidan coup in Ukraine.
The report indicated that in 2020, the contributions from BRICS countries and the G7 to global economic growth were equal. Since then the performance of the Western-led bloc has been declining. By 2028, the G7's contribution to the world economy is predicted to decrease to 27.8%, while the BRICS will account for 35%.
Bloomberg calculations show that China will be the top contributor to global growth over the next five years, with its share set to be double that of the US. China's share of global GDP expansion is expected to represent 22.6% of total world growth by 2028, the outlet wrote. India is projected to contribute 12.9% of global GDP.
"In total, 75% of global growth is expected to be concentrated in 20 countries and over half in the top four: China, India, the US and Indonesia. While Group of Seven countries will comprise a smaller share, Germany, Japan, the United Kingdom and France are seen among the top 10 contributors," the outlet wrote.
A recent study by a UK-based macroeconomics research firm has also found that the gap between the two groups in terms of global economic weight is expected to continue to grow. The analysts noted that China and India have been experiencing robust economic growth, and more countries are interested in joining BRICS.
Earlier this year, Russian Foreign Minister Sergey Lavrov said that "more than a dozen" nations have expressed interest in joining BRICS, including Algeria, Argentina, Bahrain, Bangladesh, Indonesia, Iran, Egypt, Mexico, Nigeria, Pakistan, Sudan, Syria, Türkiye, the United Arab Emirates, and Venezuela. Saudi Arabia, Egypt, and Bangladesh have acquired equity in the New Development Bank, the funding organization of BRICS.
Last year, BRICS countries proposed the creation of their own currency in order to move away from the US dollar and the euro in mutual transactions.
For more stories on economy & finance visit RT's business section
You can share this story on social media: