Swiss banks issue warning to Russian taxpayers – RBK
Clients that pay taxes in Russia have reportedly been notified that their accounts may be closed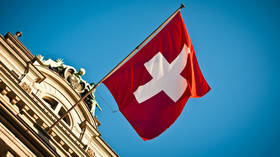 Banks in Switzerland are monitoring the transfers of their Russian clients to determine whether they pay taxes in Russia, RBK reported on Thursday, citing sources in the banking and legal industries. According to the report, a number of banks have warned clients who do so that their accounts may be shut down.
"About ten people have applied to our law firm, who have so far received unofficial calls from bank employees warning that if they do not stop being owners of companies located in Russia and paying taxes, the bank would have to close their accounts," Roman Kudinov, managing partner of the Swiss law firm LEOLEX, told the news outlet. He added that there has been no official action yet and the notifications have so far been few.
"Our bureau views these actions as illegal and plans to appeal them as soon as our clients receive official written notices," Kudinov said.
Another Swiss lawyer told RBK that his clients have already had their accounts blocked because of taxes paid to the Russian budget, but did not specify which banks were involved. Credit Suisse declined to comment on the report when asked by RBK. Other Swiss banks did not reply to inquiries.
Kudinov said the banks explain the decision by the fact that the taxes their clients pay are used to fund the military operation in Ukraine. The lawyer says he believes that banks are being forced to take action by the Swiss authorities, which have been under pressure from international partners to step-up the enforcement of the sanctions on Russia, including calls for Swiss banks to stop servicing Russian clients and freeze more Russian assets.
According to recent calculations by the Swiss State Secretariat for Economic Affairs (SECO), around 7.5 billion Swiss francs ($8.3 billion) worth of Russian assets have been frozen in Switzerland since the EU imposed sanctions on Moscow over the military operation in Ukraine. US Ambassador to Switzerland Scott Miller said this is not enough given the amount of Russian assets held in Swiss banks, which he claims is between 150 and 200 billion Swiss francs.
However, SECO head Helene Budliger Artieda said earlier this week that blocking more assets would require evidence that the funds are connected with sanctioned entities or individuals. She also reiterated that the Swiss government does not plan to confiscate the frozen assets as it would violate Swiss law, and will not pressure the country's financial institutions to stop serving Russian clients.
For more stories on economy & finance visit RT's business section
You can share this story on social media: