French tightening belts – media
Consumers have been cutting down on expenses, according to research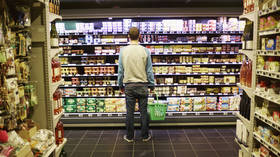 Sales volumes at major retail chains in France have declined in the first three months of the year against a backdrop of soaring prices, news channel BFMTV reported on Friday, citing a study by analytical center the Circana Institute.
"Faced with inflation, the French reduced their purchases in the first quarter. According to the Circana Institute, supermarket sales in the first three months of this year fell by 5% compared to 2022," BFMTV stated.
It indicated that surging prices pushed the turnover of large-scale retailers up by 9.1% during the same period in annual terms.
Data showed that sales of oils have been the most affected, plummeting by 53.1%. Sales of care and hygiene products reportedly dropped by 52.8%, while starch sales declined by 26.4%.
The cost-of-living crisis has deepened in France. According to a recent report by statistics agency INSEE, inflation in the Eurozone's second-largest economy continued to grow at a record pace and rose faster than expected in February, largely due to surging food prices. Food, services, and manufactured goods have been the main contributors to rising inflation.
French authorities previously introduced a so-called "anti-inflation food basket" comprising about 50 basic items, and have obliged large retailers not to hike prices on these essentials.
For more stories on economy & finance visit RT's business section
You can share this story on social media: