Ukraine's foreign reserves hit record high – official
The funds are enough to cover the nation's imports for more than five months, according to a presidential adviser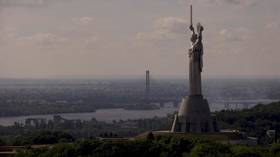 The gold and foreign currency reserves of Ukraine have reached an all-time high of $30 billion, presidential adviser Oleg Ustenko said on Sunday, adding that the funds are enough to pay for Ukrainian imports for at least five months.
"Our foreign reserves have reached a decade all-time high of over $30 billion," Ustenko told Rada TV channel. "The amount would be enough to cover more than five months' worth of Ukrainian imports."
According to Ustenko, the economic situation is considered to be stable if the reserves are sufficient to pay for the country's imports for at least three months.
The senior official warned that inflation in Ukraine is projected to reach 25% in 2023, adding that the huge number could further increase if warring tensions and attacks on the country's infrastructure intensify.
The National Bank of Ukraine previously reported that the nation's international reserves in February 2023 had seen a decline of 3.5% month-over-month, and amounted to about $29 billion. The regulator attributed the drop to its interventions in the currency market.
Ukraine's international reserves decreased by 7.9% over the past year, having totaled $28.5 billion as of January 1, according to preliminary data.
In March, the International Monetary Fund approved a four-year $15.6 billion loan program for Ukraine that came as part of a broader $115 billion international support package. The loan is the first major financing program approved by the institution for a country involved in a large-scale military engagement. The country's previous $5 billion IMF program expired last year.
For more stories on economy & finance visit RT's business section
You can share this story on social media: