Germany to boost oil imports through Russia
Kazakhstan will increase crude supplies via the Druzhba pipeline, a state operator has said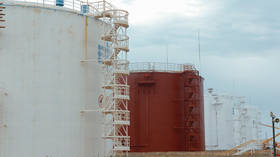 Kazakhstan plans to increase the supply of oil to Germany via Russia's Druzhba pipeline to 100,000 tons this month, the Central Asian country's state pipeline operator, Kaztransoil, announced on Friday.
According to the company, it has thus far successfully delivered two 20,000-ton shipments of oil via the pipeline to Adamowo-Zastawa in Poland. From there, it was transported on to Germany's PCK Refinery in Schwedt.
However, the supply volume is currently falling short of expectations.
Kazakh oil deliveries to the EU were greenlighted by Moscow in January, after Kaztransoil reached an agreement with Russian energy giant Transneft to use the Druzhba pipeline for transit. Under the deal, Kazakhstan reserved 1.2 million tons of pipeline capacity for transit in 2023, including 300,000 tons in the first quarter. So far, only 40,000 tons have been supplied.
Last month, Kazakh Energy Minister Bolat Akchulakov said that Astana's obligations to Germany are now only 300,000 tons of oil for the whole of 2023, despite pipeline capacity being booked for four times that amount. Analysts have speculated about whether Kazakhstan is now able to make good on its promises.
In 2022, the country produced 84.2 million tons of oil, and this year expects to produce 90.5 million tons. Oil exports are expected to reach 71 million tons, but nearly all of that amount is reportedly already under contract, and Kazakhstan may not be able to redirect it without incurring financial penalties. Experts have warned that Astana does "not have additional free volumes of oil for deliveries to Germany." Even if they do, the Schwedt refinery requires 11 million tons of oil to sustain operations, and the 1.2 million tons reserved for Kazakh transit make up a mere 10% of that amount.
Berlin turned to Astana as a substitute oil supplier after the EU banned almost all crude imports from Russia in early December. Germany, Poland, Hungary, Slovakia, and the Czech Republic were allowed to continue receiving supplies through the Druzhba pipeline, but Germany and Poland chose to scale back their imports of Russian crude in a bid to further reduce their dependence on Russian energy.
Kazakh oil appealed to Germany as it is of similar composition to Russia's Urals grade, which it previously relied on. The existing Druzhba pipeline infrastructure was also seen as removing additional logistical issues for Berlin. However, analysts have warned that Kazakhstan is struggling to find enough oil to meet European requests, and may not be able to increase output sufficiently to replace the shunned Russian supplies.
For more stories on economy & finance visit RT's business section
You can share this story on social media: