Japan bans exports of kids' toys to Russia
The restrictions are intended to prevent "the strengthening of Russia's industrial base"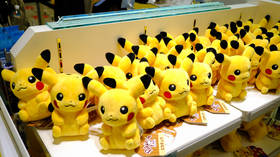 Japan has introduced new restrictions against Russia on Friday, adding children's toys to a new list of goods subject to an export ban.
Japan's Ministry of Economy, Trade and Industry has revised its trade restrictions on "goods that contribute to the strengthening of Russia's industrial base," according to an official statement issued on Friday.
The updated list includes goods such as steel, aluminum, construction machinery, electrical equipment, radio equipment for navigation, aircraft, and spacecraft. The list also features goods for children, such as toys, scale models, puzzles and items on wheels (bicycles and prams).
"In the more-than-200-year history of sanctions, there have never been bans on the supply of goods for children," Andrey Suzdaltsev from the Faculty of World Economy and World Politics at the Higher School of Economics wrote on his Telegram channel. "Apparently, Japan has declared war on the children of Russia," he added.
According to a report by independent news network BNN, the "inclusion of toys in the export ban, especially the popular Pokemon franchise… highlights Japan's intent to exert pressure on Russia through various avenues, including targeting consumer goods that hold both cultural and economic significance."
The embargo will come into force on April 7.
Tokyo's latest ban is an expansion of restrictions imposed earlier this year, which covered items that can be used for military purposes, dual-use goods, certain commodities, and semiconductors.
Since the start of Moscow's military operation in Ukraine, Japan has imposed sanctions on the Russian leadership, banks and companies, and stripped Russia of its most-favored-nation status in trade. Tokyo has blacklisted over 50 enterprises and more than 900 individuals. The Japanese authorities have also frozen the assets of Russian banks and the assets of nearly 40 companies and organizations.
Moscow responded by including Japan on its list of so-called "unfriendly" countries, and banned dozens of Japanese politicians and media representatives from visiting Russia. Among other measures, Russia ended an arrangement dating back to 1991 that allowed Japanese citizens to visit the Kuril Islands without a visa, and has broken off talks with Japan on formally ending the Second World War, citing Tokyo's "openly unfriendly" conduct. The two states never formally concluded a peace treaty after WWII, due to a dispute over the four southernmost islands in the Kuril chain, which Japan calls its "Northern Territories."
For more stories on economy & finance visit RT's business section
You can share this story on social media: