Brits warned of empty shelves in grocery stores
Shortages of fresh vegetables could become commonplace in the UK in the near future, farmers warn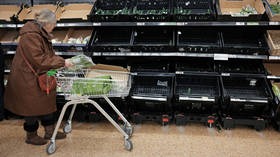 UK consumers may have to get used to empty shelves in supermarkets due to unprecedented shortages of fresh vegetables amid record food price inflation and skyrocketing energy costs, Reuters reported on Tuesday.
British shoppers have been experiencing a scarcity of fresh food for months as sales of tomatoes, cucumbers, peppers and some fruits were limited by most of the country's largest supermarkets due to supply deficiency. Poor weather conditions have disrupted harvests in Europe and North Africa, while inflation led to higher costs for produce from the UK's key markets such as Spain, the outlet said.
Britain imports around 95% of its tomatoes over the winter, according to the British Retail Consortium. In January, the UK bought 266,273 tons of vegetables – the smallest amount for any January since 2010 when the country's population was 7% smaller than at present, tax office data showed.
This comes as British consumers are grappling with record grocery price inflation, which has surged to 17.5% in the four weeks to March 19.
Analysts say a supply squeeze is resulting in higher costs, while the country's departure from the EU poses a greater logistical challenge for bringing vegetables to the island as exporters are discouraged by additional paperwork.
Meanwhile, British farmers are struggling with higher energy costs, which reduce their ability to grow fruits and vegetables in heated greenhouses.
"There are real risks that empty shelves may become more commonplace," president of the National Farmers Union, Minette Batters, told Reuters.
The union expects fresh vegetable production to be the lowest this year since 1985 due to the decision to exclude agriculture from a government support scheme which provides aid to companies hit by high energy costs. Farmers also warn that the shortage of tomatoes will widen to other home-grown crops, including cauliflower and carrots.
For more stories on economy & finance visit RT's business section
You can share this story on social media: