Iran sees surge in Russian investment
Moscow has emerged as Tehran's top foreign investor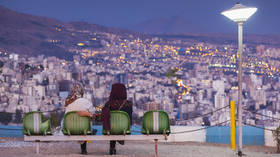 Russia has become the leading foreign investor in Iran, Economy Minister Ehsan Khandouzi revealed in an interview with the Financial Times published on Thursday.
Russia invested $2.76 billion during the financial year that ended this week in the Islamic Republic, according to Khandouzi. The minister added that Russian investors are participating in significant projects in the industrial, mining, and transport sectors.
Russian funds accounted for around two-thirds of total overseas direct investment in Iran, which neared $4.2 billion in the Middle Eastern nation's last financial year.
"We define our relations with Russia as strategic and we are working together in many aspects, especially economic relations," Khandouzi told the FT. "China and Russia are our two main economic partners [and] Iran is going to expand its relations with them through implementing strategic agreements."
Earlier this year, the Russian and Iranian central banks signed a bilateral deal aimed at connecting interbank communication systems in a bid to strengthen trade ties.
"Russia and some other countries are keen to use mechanisms such as mutual monetary agreements or trade-based swaps," Khandouzi said. "We have negotiated not only with Russia but also with China and other partners, including Türkiye, in this regard."
"Technically speaking, this financial network is in a better situation between Iran and Russia than others," he added.
Last month, the Russian ambassador to Tehran, Aleksey Dedov, said that trade turnover between the two countries hit an all-time high in 2022. Without providing exact figures, Dedov said that the record was reached thanks to successful cooperation in agriculture, energy, and logistics.
For more stories on economy & finance visit RT's business section
You can share this story on social media: