Germans warned of gas shortage
Consumers should continue efforts to conserve energy ahead of next winter, according to the national utilities regulator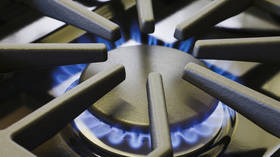 German businesses and households may need to further slash their natural gas consumption to avoid an energy crunch next winter, Klaus Mueller, the head of Germany's Federal Network Agency, has warned.
In an interview with the Financial Times on Thursday, Mueller talked about the risk of potential gas shortages, warning that Germany's power crisis "isn't over" and much depends on whether next winter is colder than the last.
According to the official, the situation also largely depends on whether the government continues to limit the use of gas and ensure diversified supplies.
He noted that the winter of 2023-24 will be the first that Germany experiences "without any Russian pipeline gas at all," while the global supply of liquefied natural gas (LNG) "is not expected to increase significantly this year or next."
German industry used 20% less gas this winter as a result of drastic energy savings by companies and households, but may have to go even further, Mueller added.
"We were very lucky to have had a very mild winter in Europe [in 2022-23]," he told FT. "But you see what a serious impact the weather has, you see how much gas has to be burned to heat homes when it's cold."
The head of the energy watchdog also warned that China's economic recovery could lead to higher demand for gas that would have "consequences in terms of price."
Germany, along with other EU states, has been gradually reducing its reliance on Russian energy supplies. While the EU did not ban Russian pipeline gas imports, their flows dwindled significantly due to Ukraine-related sanctions and following the sabotage that disabled the Nord Stream 1 pipeline, which was one of the main routes for Russian gas to Europe. As a result, Germany no longer receives Russian gas directly and, according to Mueller, energy prices will no longer be as low as they were when it did.
For more stories on economy & finance visit RT's business section
You can share this story on social media: