Russian inflation drops below 6%
The surge in consumer prices recorded last year amid Western sanctions has been gradually subsiding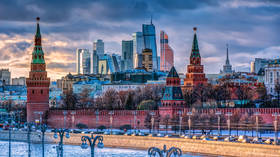 Inflation in Russia was running at an annualized rate of 5.99% as of March 20, slowing from 7.65% recorded a week earlier, according to the latest report released by the country's economy ministry on Wednesday.
In the category of non-food products, prices for electrical and household appliances resumed growth, while prices for clothes, underwear and footwear continued to grow.
The decline in prices for construction materials demonstrated a slight slowdown. At the same time, prices for passenger vehicles remained unchanged after dropping 0.03% a week earlier.
"In the food segment prices increased with the exception of vegetables and fruits," the ministry said.
The tourism sector and personal services regulated by the state saw a price growth of 0.35% from 0.22% recorded a week earlier. The growth is mainly attributed to an accelerated increase in prices for airline tickets for domestic flights, as well as for hotel services.
In March 2022, the Bank of Russia recorded a decrease in inflationary expectations among Russians for this year to 10.7% from 12.2% in February.
The regulator expects inflation to slow this year to between 5% and 7%, and reach the target of 4% as early as next year. Meanwhile, the economy ministry expects inflation to settle at 5.5% this year.
According to the central bank, annualized inflation will temporarily drop to 4%, rebounding from last year's initial double-figure surge due to Western sanctions.
For more stories on economy & finance visit RT's business section
You can share this story on social media: