Kremlin slams Western media's take on Russia-China gas deal
Dmitry Peskov calls Bloomberg's claim that no agreement has been struck "low-skilled misinformation"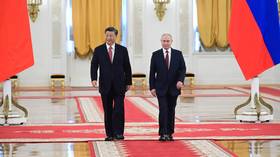 Western media reports on the lack of a major natural gas deal between Russia and China are fake, Kremlin spokesman Dmitry Peskov said on Wednesday, referring to stories citing information published by Bloomberg.
Peskov noted that earlier this week, Russian energy giant Gazprom announced a daily record in gas supplies to China through the Power of Siberia pipeline.
"It [the Bloomberg report] looks like low-skilled misinformation. The reality is quite different," Peskov told Russian business daily RBK.
"The issues of expanding of supplies were discussed. By the way, just yesterday, on the day of negotiations [between Moscow and Beijing], Gazprom broke the historical record for daily pipeline gas supplies to China," he added.
On Monday, Gazprom said China's request for Russian gas supplies via the Power of Siberia pipeline had significantly exceeded the existing daily contractual obligations.
"Gazprom delivered the requested volumes and set a new historical record for daily gas supplies to China," the company said in a statement, ahead of formal talks between Russian President Vladimir Putin and his Chinese counterpart Xi Jinping in Moscow.
According to Peskov, the heads of state held an in-depth discussion on the construction of the Power of Siberia-2 gas pipeline, as well as "further expansion of cooperation in this area."
Earlier this week, Bloomberg reported that the Chinese leader did not give Moscow "an explicit agreement or even a nod to minimal progress" on the Power of Siberia 2 gas pipeline, which it called Putin's crucial plan to boost eastward sales of gas, while Russian export infrastructure largely faces West.
On Tuesday, the Russian president said Moscow and Beijing had agreed on almost all the basic points of an agreement on the construction of the new pipeline.
"This is 50 billion cubic meters of gas in reliable stable supplies from Russia," Putin said.
According to Deputy Prime Minister Alexander Novak, Putin and Xi have given orders to prepare the necessary documents for the construction of the route as soon as possible.
The proposed Power of Siberia 2 gas pipeline is expected to pump gas from the vast reserves of the Russian Yamal peninsula in west Siberia to China, the world's biggest energy consumer. The first Power-of-Siberia route runs for 3,000 km through Siberia into China's northeastern Heilongjiang province.
The new pipeline is expected to cut through eastern Mongolia and into northern China. A feasibility study on the project was launched in 2020. The 2,600-km route, able to carry 50 billion cubic meters of gas annually, is projected to start delivering the fuel by 2030.
For more stories on economy & finance visit RT's business section
You can share this story on social media: