Switzerland risks becoming 'financial banana republic' – industry expert
The banking crisis has shattered the country's reputation as a pillar of the Western financial system, CEO of Opimas claims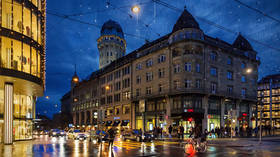 The troubles of once-major Swiss investment bank Credit Suisse is undermining Switzerland's reputation as a global financial hub, says Opimas CEO Octavio Marenzi, as cited by CNBC on Tuesday.
His warning follows a historic takeover of Credit Suisse by the UBS Group, its domestic rival. On Sunday the two banking giants announced a Swiss-government-brokered deal aimed at shoring up public confidence in the Western financial system and at averting a global crisis. UBS agreed to acquire the embattled bank for three billion Swiss francs ($3.2 billion) as part of a cut-price deal.
"Switzerland's standing as a financial center is shattered," Marenzi reportedly said, adding that "The country will now be viewed as a financial banana republic."
"The Credit Suisse debacle will have serious ramifications for other Swiss financial institutions. A countrywide reputation with prudent financial management, sound regulatory oversight and, frankly, for being somewhat dour and boring regarding investments, has been wiped away," Marenzi stated.
The landmark merger, which may well turn UBS into the world's largest wealth manager, with more than $5 trillion in total invested assets, has nevertheless sparked concerns about the health of the acquired assets.
Investors have been also raising fears about the write-off of $17 billion worth of Credit Suisse's AT1 bonds, which was part of the merger deal. The move angered many debt-holders, who have been left empty-handed, and has revealed yet another banking-sector risk. Former European Central Bank vice president Vítor Constâncio has called the write-off decision a "mistake with consequences and potentially a host of court cases."
There are also concerns about the long-term benefits of the merger and the outlook for other banks in Switzerland, which has previously been viewed as a role model of sound banking.
For more stories on economy & finance visit RT's business section
You can share this story on social media: