Major strike hits 'Russia's Amazon'
Operators of Wildberries pickup points across the country have walked off the job over new fines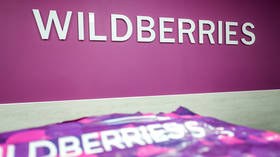 Operators of Wildberries pickup points across Russia's major cities have staged a strike because of new fines that the online retailer began to impose on them over damaged and lost goods, several local media outlets reported on Wednesday.
The retailer has reportedly imposed a new rule for pickup point owners, under which the full cost of items are withheld from store owners if the buyer complains that they were faulty.
It has also reportedly introduced a fine of 100,000 rubles ($1,300) for owners of Wildberries pickup points who disseminate offensive and false information about the company or its customers and partners.
On Tuesday, the owners of Moscow pickup points gathered in protest near the office of the e-commerce giant. Pickup point operators also stopped work in St. Petersburg, Barnaul and Ekaterinburg.
"The financial aspect leaves much to be desired. We need transparency of earnings and penalties, even if they remain in force," one of the protesters told Russian business daily RBK, adding that those who gathered are planning to demand fair conditions from management.
One of the operators claimed that the fines create difficulties with paying wages to employees.
In response to queries from RBK about the strike at the company's office, Wildberries' press office said the information about the rally was fake.
According to the 'Caution, Moscow' Telegram channel, the pickup point owners prepared a collective demand but could not deliver it to Wildberries management because it was not accepted at the firm's head office.
After police arrived at the company's headquarters in Moscow, the corporation reportedly held a meeting on Zoom with the strikers to provide information about the new regulations.
For more stories on economy & finance visit RT's business section
You can share this story on social media: