Russia's trade surplus hits record high
The country's exports surged nearly 20% despite Ukraine-related sanctions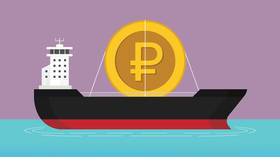 Russia's foreign trade surplus soared last year, driven by gains in exports, data from the Federal Customs Service showed on Monday.
According to the agency, total exports in 2022 reached $591.4 billion, up 19.9% from 2021. Imports, meanwhile, slid 11.7% against the previous year to $259.1 billion. This brought the country's trade surplus to a record of $332.38 billion, up 67% from $199.5 billion in 2021.
Russia's foreign trade turnover increased by 8.1% compared to 2021, reaching $850.5 billion. Energy products made up the bulk of Russia's foreign exports, comprising nearly 65%, and amounting to $383.73 billion. The figure rose 42.8% year-on-year despite Western sanctions imposed on Russian energy supplies, as Moscow actively redirected them towards Asian partners, most notably India and China.
Foodstuffs and agricultural raw materials exports were estimated at $41.3 billion, about 7% of total exports in monetary terms. Sales of ferrous metals, fertilizers, as well precious and semi-precious metals and stones amounted to $62.5 billion.
Industrial equipment and mechanical devices represented Russia's biggest import at $47.3 billion worth of goods, or 18% of all imports. Moscow also imported $35.7 billion worth of food products and agricultural raw materials (13% of total imports) and $29.8 billion worth of electrical machinery and equipment (11.5%).
Western countries have passed ten rounds of Ukraine-related sanctions on Russia since last year, blacklisting hundreds of products which can no longer be sold to or bought from Russia, ranging from electronics to food.
Restrictions have also targeted Russian financial institutions, making it difficult for the country to conduct transactions internationally. However, Russia has been actively redirecting its exports and securing alternative markets for products it can no longer buy from the West, which, along with successful monetary policy, allowed the country to withstand sanctions pressure.
Russia's Federal Customs Service stopped releasing trade statistics in March 2022, shortly after the initial impact of Western sanctions. However, the agency announced on Monday it will be partially resuming its statistics reports, which are now to be published monthly.
For more stories on economy & finance visit RT's business section
You can share this story on social media: