India tightens control of crypto
Money-laundering laws have been applied to the digital-asset sector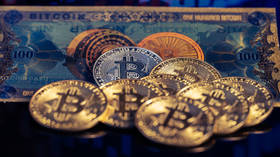 India has imposed money-laundering regulations on trade in cryptocurrencies, according to a government release published on Tuesday, in the latest step to tighten control of the sector.
A range of crypto transactions, namely the exchange, transfer, safekeeping and administration of virtual assets, now fall under the Prevention of Money-Laundering Act (PMLA), the notification from the Ministry of Finance published by The Gazette of India states.
The PMLA obliges financial institutions to keep a record of all transactions for ten years, provide the records to officials in necessary, and to verify clients' identity.
In 2021 India was reported to have the highest number of crypto owners in the world. Last year New Delhi introduced a tax regime for digital assets, imposing a 30% tax on holdings and transfers, among other measures, leading to a huge slump in trading and an outflow of investors.
The country is yet to finalise the legislation and its central bank has said that cryptocurrencies should be banned, as they are akin to a fraudulent investing scam.
Last year, Prime Minister Narendra Modi warned that digital coins could "spoil our youth" if they ended up "in the wrong hands" and that "private currencies" presented a major security risk as they could be used to finance terrorism. The Indian government wants to launch its own digital currency.
The legal status of crypto differs from country to country. Digital currency is decentralized and is used anonymously to conduct transactions between account holders. This raises concerns for governments globally.
For more stories on economy & finance visit RT's business section
You can share this story on social media: