Russia and India dent dollar's dominance – Reuters
Booming oil trade between the two nations has shifted to alternative currencies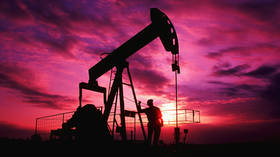 The US dollar is seeing its decades-long dominance in oil trade undermined by sanctions against Russia, Reuters reported on Wednesday.
Over the past few months, most deals between India, one of the world's largest oil importers, and Russia have been settled in other currencies, such as the Russian ruble and the United Arab Emirates dirham, the agency said, citing its oil-trading and banking sources.
Moscow has become India's top crude supplier after the nation's refiners started to snap up Russian crude at discounts following the US and EU embargoes on Russian oil, and sanctions against the country's banks.
Over the last three months, oil-trade transactions between India and Russia totaled the equivalent of several hundred million dollars, the agency's sources said, adding that New Delhi has also prepared a framework for settling trade in Indian rupees, should ruble transactions be blocked by further sanctions.
The US dollar has for decades been the most widely-accepted currency in international oil trade. However, according to Reuters, the current shift into other currencies could prove lasting.
Daniel Ahn, a former chief economist at the US State Department, told the agency that the sanctions against Russia could undermine the West's financial systems, while also failing to achieve their aim.
For more stories on economy & finance visit RT's business section
You can share this story on social media: