Iconic chocolate bars to lose classic logo
Toblerone will no longer use the image of the Matterhorn mountain peak due to strict Swiss rules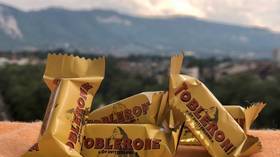 The distinctive triangular Swiss Toblerone chocolate is losing the Matterhorn mountain image from its branding as production will soon no longer be based exclusively in Switzerland. The new wrapping will feature a generic mountain design instead, the confectionery brand's US owner Mondelez has revealed.
The company had earlier decided to shift some of the Toblerone production to its plant in the Slovakian capital of Bratislava from the end of 2023, where it also produces the Milka chocolate brand.
"The packaging redesign introduces a modernized and streamlined mountain logo that aligns with the geometric and triangular aesthetic," a Mondelez spokesperson told Swiss newspaper Aargauer Zeitung last week. The designation "Toblerone – of Switzerland" will be replaced with "Established in Switzerland," the spokesperson stated. The new wrapping will reportedly also feature the signature of its founder, Theodor Tobler.
Under "Swissness" legislation introduced by Switzerland in 2017, milk and milk-based products have to be entirely produced in the country in order to use national symbols in their marketing. An exception is for cocoa because it cannot be sourced locally. For other foodstuffs to market themselves as "made in Switzerland," 80% of the raw ingredients must be sourced from the country and the majority of processing must take place there.
The Toblerone chocolate bar, consisting of nougat, almonds and honey, has been produced in the Swiss capital Berne, also known as the 'City of Bears', since 1908. The fate of a bear, which is climbing the 4,478-meter-high (14,690ft) Matterhorn mountain in the current Toblerone logo, remains unknown.
For more stories on economy & finance visit RT's business section
You can share this story on social media: