Luxury carmakers stall EU ban on combustion engines – Bloomberg
Porsche and Ferrari reportedly want an exemption for e-fuel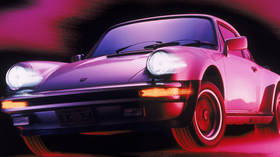 An EU ban on the sale of new combustion-engine cars has been postponed due to calls from luxury automakers Ferrari and Porche for synthetic electric fuel to be given an exemption, Bloomberg reported on Saturday.
The ban was set to be adopted earlier this week, but its approval was reportedly thwarted at the last minute by the governments of Italy and Germany, even though the regulation had already been agreed on by EU member states and approved by the European Parliament. According to Bloomberg, this was done under pressure from the two automakers, who are considered national icons in their home countries.
Italy's deputy prime minister called the delay in passing the ban "a great signal," while German Transport Minister Volker Wissing said Europe "needs e-fuels because there is no alternative to operating our existing fleet in a climate-neutral manner."
The EU ban is designed to lower carbon emissions by prohibiting combustion-engine cars that run on fossil fuels from being produced, starting from 2035. Since discussions of the ban began, many automakers have invested in electric cars. However, Porsche invested instead in an e-fuel plant in Chile, where it now holds a 12.5% stake, and said it has no plans to produce an electric version of its classic 911 model. Ferrari says that while it does plan to produce electric cars, it will also invest in e-fuel to be able to continue making its iconic combustion-engine vehicles, to "preserve our heritage."
E-fuel is a combustible, liquid fuel made from combining captured carbon dioxide with renewable hydrogen, using electricity. When burned in a combustion engine, it emits carbon dioxide, but proponents of the fuel claim it is climate neutral as it was made from previously captured CO2.
The EU climate commissioner Frans Timmermans recently said that e-fuel did not seem to be "a very realistic possibility" for making combustion engines "clean." He noted, however, that "if manufacturers think they can prove otherwise, it is up to them to do that." Critics argue that the fuel is too expensive to produce, and should be used in aviation rather than in the automotive industry, as it is much more difficult to decarbonize air transport.
For more stories on economy & finance visit RT's business section
You can share this story on social media: