EU offers Russian banks alternatives to SWIFT – media
Key Russian lenders were disconnected from the financial messaging system as part of sanctions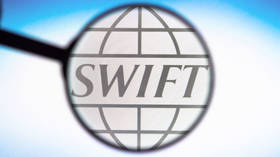 Russian banks disconnected from SWIFT may be permitted to use alternative messaging channels for transactions with foreign counterparts, RBK reported on Saturday, citing EU guidance.
According to the report, the alternatives encompass "non-specialized financial messaging services" such as phone, fax, or email. Banks that are not on the EU sanctions list can use these channels to conduct business with European financial institutions if the transactions are also not subject to sanctions, the document states. It specifies payments for imports and exports of non-sanctioned goods as an example.
Belgium-based SWIFT is a high-security messaging system that enables financial transactions around the globe. Last year, the EU disconnected ten key Russian banks from the system as part of sanctions related to the Ukraine conflict. The lenders, which include Rosselkhozbank, Sberbank, VTB, Otkrytie, Novikombank, Promsvyazbank, Rossiya, Sovcombank, VEB.rf, and MKB essentially can neither receive foreign currency nor transfer assets abroad. Nine of them are also subject to blocking sanctions, which ban EU financial institutions from cooperating with them.
Similar punitive measures were recently imposed on Tinkoff Bank, Rosbank, Alfa Bank, VBRR, and Far East Bank. While these lenders were not disconnected from SWIFT by a separate decision, the blocking nature of the sanctions will prevent them from using the system as well.
However, according to RBK, the EU clarification may offer an opportunity to Russia's Rosselkhozbank, which is disconnected from SWIFT but is not subject to the blocking sanctions.
The reason for the reported proposal was that Rosselkhozbank services the lion's share of Russia's fertilizer and food-related exports, which do not fall under sanctions. Brussels has thus far not issued a sanctions waiver regarding Rosselkhozbank, but the European Commission earlier indicated that the matter is being discussed.
Russia has its own financial messaging system, SPFS, which can act as a substitute for SWIFT in the domestic market. While its coverage is still much smaller than that of SWIFT – which boasts 11,000 financial organizations globally – the spread of SPFS has been gaining speed in recent months. In February, the Russian Central Bank announced that the system now has 469 participants, including 115 foreign entities from 14 nations.
For more stories on economy & finance visit RT's business section
You can share this story on social media: