EU should 'get ready' for stagflation – US economist
Jeffrey Sachs says underlying inflation trends signal a further surge in prices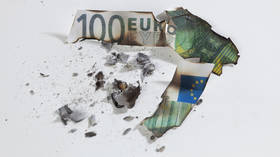 The Eurozone is on the verge of stagflation, renowned US economist Jeffrey Sachs has warned on his YouTube channel. Stagflation refers to a period of stagnant economic growth combined with persistently high inflation and a sharp rise in unemployment.
According to Sachs, who was the mastermind behind "shock therapy" reforms in the 1990s in Russia, the recent slowing in headline inflation in the euro area is a temporary occurrence, as it includes highly volatile fresh food and energy prices, which change quickly. However, core inflation, which excludes these readings and therefore gives a clearer picture of underlying pressures within the economy, surged to a new record last month, signaling that the Eurozone economy may be headed into a crisis in the long run.
"Core inflation in Europe just keeps rising, despite headline slowing as the economy tips into recession. Get ready for stagflation!" Sachs said.
Headline inflation across the 20 countries of the euro area slowed to 8.5% in February from 8.6% the month before, according to Eurostat data. Experts attribute the trend to the decline in energy prices brought about by unseasonably mild weather and, subsequently, lower demand. Core inflation, on the other hand, rose by 5.6%, a new historic high for the indicator. The surge in core inflation is likely to force the European Central Bank to keep raising interest rates, which often stalls economic growth or even pushes the economy into a recession, a period of negative growth.
"If we don't get clear signals that core inflation is going down, we'll have to do more," Belgium's central bank head Pierre Wunsch, who is also a member of the ECB governing council, told reporters this week, adding that "looking at rates of 4% would not be excluded."
Sachs is not the first to issue warnings about looming stagflation. Another renowned economist, Nouriel Roubini, has been saying for months now that the world economy is headed into what he calls "a global stagflationary debt crisis," noting that with interest rates at their current levels, the debt ratio is quickly becoming unsustainable.
For more stories on economy & finance visit RT's business section
You can share this story on social media: