Russia's debt-to-GDP lowest in G20 – data
This is a fundamental factor of economic stability, according to the country's Accounts Chamber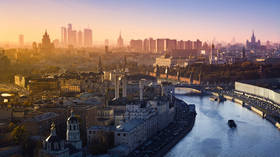 Russia's foreign debt decreased for the first time in three years in 2022, official data from the country's Accounts Chamber showed on Thursday.
External debt amounted to 4.04 trillion rubles ($53.3 billion) last year, down from 4.44 trillion ($58.5 billion) in 2021, according to the department. The figure had been steadily growing in 2019 and 2020.
Meanwhile, the country's total national debt amounted to 22.82 trillion rubles ($302.7 billion) last year, putting the debt-to-GDP ratio at 17.1%, down from 18.1%.
The Accounts Chamber noted that the debt figures are within the "norm," while the debt-to-GDP ratio, a fundamental indicator of economic stability, is the lowest among the G20, which signals that Russia's economy is in good shape.
"Taking into account the accumulated reserves, the public debt of the Russian Federation is currently at a safe level," the Accounts Chamber press service said.
Last year, many experts predicted a drastic downturn for the Russian economy amid the military operation in Ukraine and unprecedented sanctions and economic restrictions imposed by the West in retaliation.
However, official figures released earlier this month showed Russia's GDP having decreased by just 2.1% in 2022, far better than some earlier Western projections of a decline of up to 20%. The IMF recently improved its forecast for Russia's economy and now expects the country's GDP to return to growth, rising by 0.3% this year and by 2.1% in 2024.
For more stories on economy & finance visit RT's business section
You can share this story on social media: