Russia remains Germany's largest coal supplier – Bild
Berlin reportedly bought nearly 30% of its coal imports from the sanctioned country last year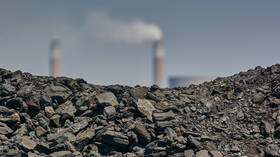 Russia retained its position as Germany's largest coal supplier last year despite sanctions that banned imports of the fossil fuel from the country in mid-2022, Bild newspaper reported on Saturday, citing data from the German Coal Importers Association (VDKi).
According to the report, Germany bought a total of 44.4 million tons of coal in 2022 – an 8% increase from the year before. While imports of the fossil fuel from Russia plunged by 37% compared to the 2021 figures, the country still delivered roughly 13 million tons to the European nation, representing around 29% of its total imports. Purchases from Germany's other suppliers grew, but still fell short of Russian volumes.
The US supplied 9.4 million tons, a 32% increase year-on-year, while Colombia became the third-largest supplier with 7.2 million tons, a surge of 210%. Shipments from South Africa also rose dramatically by 278% year-on-year to 3.9 million tons. Australia was the fourth-largest coal supplier with 6.3 million tons.
The EU banned coal imports from Russia on August 10, 2022 as part of a Ukraine-related sanctions package that was announced last April. In 2021, Russia accounted for about 70% of the bloc's coal imports, with Germany and Poland particularly dependent on the Russian fossil fuel, as much of these countries' electricity is produced by coal-powered power plants. Taking into account the embargo, it appears that most of the Russian coal was delivered to Germany prior to or shortly after August 10.
Germany has been pushed to boost its coal use in recent months as a result of energy shortages and soaring power prices, which were caused by the reduction in gas supplies coming from Russia in the wake of Western sanctions. This has conflicted with the country's long-established commitment to fight climate change and abandon 'dirty' fuel.
In a bid to ensure energy security, Berlin even ordered the resumption of activity at idle coal mines last September. According to the Federal Statistical Office (Destatis), the country currently produces more than one third of its electricity from coal-fired plants. The phasing out of coal-fired power plants has been postponed until March 2024.
Earlier this month, VDKi head Alexander Bethe criticized EU and German policies, which seek to abandon coal in favor of cleaner energy, claiming that such plans are too ambitious. He said the notion that Europe will only need coal for another one or two winters is far from reality.
"It is irresponsible to talk about the end of hard coal without having reliable alternatives. First create efficient green technologies, and then give up [coal]. Not the other way around," Bethe stated.
For more stories on economy & finance visit RT's business section
You can share this story on social media: