Japanese inflation hits four-decade high
Consumer prices are rising as higher energy costs are passed on to households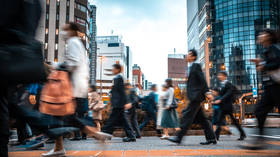 Japan's core consumer inflation index hit a 41-year high last month as companies continue to pass rising energy costs continue on to households, government data showed on Friday.
The consumer price index (CPI), which excludes fresh food but includes energy costs, jumped 4.2% in January from a year ago, up from the 4.0% reading the previous month. It was the biggest increase since September 1981, when the country suffered from a spike in fuel costs due to the Middle East oil crisis. On a monthly basis, consumer prices grew 0.4% in January, following a 0.3% rise in December.
Core inflation has now been well above the Bank of Japan's (BoJ) 2% target for nine months in a row. This is largely attributable to continued increases in the cost of fuel and raw materials, which Japanese companies are passing on to consumers.
"Inflation will probably peak in January but may not fall back below the BoJ's 2% target for some time. But there are questions as to whether the rise in inflation will be sustainable, as it is still driven largely by food and fuel costs," Yoshimasa Maruyama, the chief economist at SMBC Nikko Securities, told Reuters.
The BoJ now faces a challenge in maintaining its yield control – a policy of purchasing government bonds so as to target a certain interest rate level – as markets expect high inflation to force it to hike interest rates. However, the bank's incoming governor, Kazuo Ueda, said on Friday that it would take time for rising prices to be contained, which makes monetary tightening under the current conditions risky as it could slow down the economy.
"There have been various side effects, but in light of the economic and price conditions, the methods have been necessary as well as appropriate to sustainably achieve the 2 per cent inflation target. I believe it is appropriate to continue monetary easing measures while being creative in line with the situation," he said, referring to the regulator's adoption of negative rates and yield curve control.
For more stories on economy & finance visit RT's business section
You can share this story on social media: