Iraq opts for yuan settlements in trade with China
The country is looking to cut back on dollar dependence, Reuters reports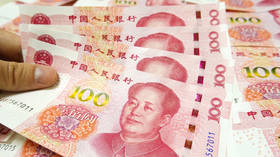 Iraq's central bank announced this week that the country's trade with China may soon be settled directly in yuan, according to Reuters. The report says the move is an attempt to improve access to foreign currency.
The regulator has been taking urgent steps to compensate for a dollar shortage in local markets, which prompted the cabinet to approve a currency revaluation earlier this month, the news agency said.
"It is for the first time that imports would be financed from China in yuan, as Iraqi imports from China have been financed in (US) dollars only," the government's economic adviser, Mudhir Salih, told Reuters.
As part of the plan, the regulator may boost the balances of Iraqi banks that have accounts with Chinese banks in yuan. Another option would be to boost local banks' balances via the central bank's accounts with JP Morgan and Development Bank of Singapore (DBS), the regulator added.
The first option would reportedly depend on the central bank's yuan reserves, while the other would use the bank's US dollar reserves at JP Morgan and DBS. The two banks would convert the dollars to yuan and pay the final beneficiary in China, Salih explained.
The move is the latest sign of the yuan's growing role on the international stage, according to Reuters.
As part of its de-dollarization strategy, Beijing has been promoting settlements in national currencies other than the US dollar and the euro. China has been gradually opening its financial markets as more countries look to diversify their currency exposures.
For more stories on economy & finance visit RT's business section
You can share this story on social media: