Western brands that left Russia easy to find – Reuters
The vast majority of foreign goods are being imported via alternative supply chains, the outlet reports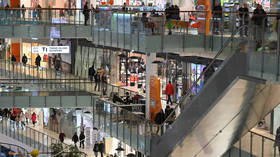 The exodus of Western companies from Russia has had a minimal impact on the country's consumers, Reuters reported this week, noting that most of the goods are easy to find.
According to the news outlet, the main change has been to the supply routes, but the products remain available both online and in stores, although delivery times can be longer and some goods are more expensive.
The report said the vast majority of the goods are not subject to Western sanctions, and are therefore legal.
A Reuters review of six major online marketplaces and conversations with a dozen buyers and sellers showed that a wide range of imported goods has been flowing to the Russian market.
"Contacts were quickly established and new contracts with new partners signed, new money flows and logistical supply chains with Turkish, Polish and Kazakh companies were launched," an unnamed senior employee at a major retailer told the outlet. "However, as usual, it is the buyer who pays more for these new inconveniences," he added.
Last March, the Russian government authorized retailers to import products from abroad without the trademark owner's permission. The mechanism of 'parallel imports' was legalized to provide the market with goods that Western companies stopped delivering due to sanctions. Official statistics show that the volume of goods supplied to Russia via parallel imports exceeded $20 billion as of December.
The CEO of digital vetting platform Publican, Ram Ben Tzion, told Reuters that as new routes are being developed, the extra logistics, travel, and scaling costs will fall.
"The parallel importing mechanisms have been consolidated and expanded, meaning that pretty much everything is accessible and still will be in the future," he said, pointing to the lines of trucks at the border and new entities emerging in nearby countries.
For more stories on economy & finance visit RT's business section
You can share this story on social media: