Putin tells Russian business where the future lies
Investing domestically will help preserve wealth and aid the economy, according to the president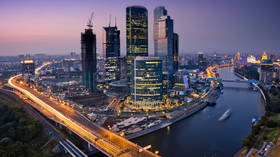 Russian businesspeople should invest more in their own country in order to support the economy and preserve their own wealth, according to President Vladimir Putin.
During his address to the Federal Assembly on Tuesday, Putin urged entrepreneurs who are currently faced with the "predatory behavior of the West" as a result of sanctions to not cling to the past and attempt to sue someone abroad. It is pointless to "run around with outstretched hands and humiliate yourself," the president said, noting that he had warned them about such risks earlier.
According to Putin, big Russian businesses should understand that for the West they will remain second-rate strangers and the titles of "count, peer and mayor" will not help.
"The sources of wellbeing and the future for businessmen of the Russian Federation should be in their native country, then there will be a strong, self-sufficient economy," Putin stressed, encouraging businesses to reorient their investments.
"I am addressing the representatives of our business [community], I know many personally and for many years … Launch new projects, earn money, invest in Russia, invest in enterprises and jobs, help schools and universities," the president urged.
For more stories on economy & finance visit RT's business section
You can share this story on social media: