EU nation wants Russian oil capped at $30 a barrel – Bloomberg
Estonia has reportedly urged similar measures to be taken against the sanctioned country's LNG exports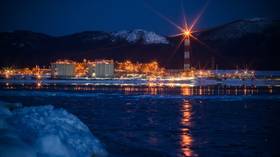 The EU should lower the $60-a-barrel price cap on Russian oil by half and impose similar measures against the country's liquefied natural gas (LNG) exports, Bloomberg quotes Estonian Foreign Minister Urmas Reinsalu as saying on Monday.
According to the media outlet, Reinsalu insisted that the current $60-a-barrel limit is "far too high" and should be lowered to $30-a-barrel as "Russia gets billions from that business."
The price cap on Russian seaborne oil exports of $60 per barrel was introduced by the EU on December 5. It bans Western companies from providing insurance and other services to shipments of Russian oil unless the cargo is purchased at or below the set price.
Brussels has secured commitments from members of the bloc to revise the Russian oil-price ceiling every two months and to set future caps at least 5% below average market rates.
The average price of Urals crude was $46.82 per barrel between January 15 and February 14, according to the Russian finance ministry.
Estonia has also demanded the imposition of an additional price ceiling on Russian LNG. While Moscow's oil shipments to the EU have shrunk by two-thirds, according to International Energy Agency, exports of LNG have surged, with France, Belgium, and Spain being the main buyers.
According to Reinsalu, combined measures would create a "holistic approach to pressure Russia" as the EU is looking for more ways to punish Moscow.
LNG production in Russia increased by 8.1% last year to a record 32.5 million tons, the Federal Statistics Service Rosstat reported earlier this month, with 11.5 million tons of the fuel produced at the Sakhalin-2 plant alone.
For more stories on economy & finance visit RT's business section
You can share this story on social media: