Mexico cutting foreigners off from its 'white gold'
The government is planning to nationalize deposits of lithium, which is vital for the production of electric vehicle batteries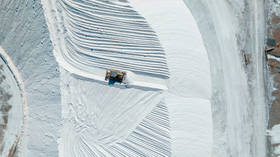 Foreign companies are set to be excluded from lithium mining in Mexico after President Andres Manuel Lopez Obrador issued orders for nationalization of the country's deposits to be expedited.
The transfer of lithium reserves to Mexico's energy ministry was ordered last April with the signing of a document during an event in Bacadehuachi in the state of Sonora, which also designated 2,500 square kilometers in the region as a national lithium mining zone.
The district, which borders the US, is home to the country's largest lithium deposits and was chosen by the president as the location for the launch of an ambitious program called Plan Sonora. This outlined a strategy to exploit the mineral, which is used in the manufacture of smartphones, car batteries, and other rechargeable electronics.
Last April, the Mexican authorities approved a bill to nationalize lithium mining and extraction, granting exclusive rights to a state-run company that had yet to be created. At the time, President Obrador pledged to review contracts with foreign companies that were exploring potential lithium deposits in the country. The state-run firm called Litio para Mexico, or Lithium for Mexico, was founded in April.
The latest decree orders Mexico's energy ministry "to take the actions necessary to carry out" the nationalization process.
"[Let's make] the nation be the owner of this strategic mineral," Obrador said, as quoted by Reuters. "What we are doing now... is to nationalize lithium so that it cannot be exploited by foreigners from Russia, China or the US."
The Mexican government has no experience in mining lithium or commercial production of the metal. Instead, a large number of foreign corporations had participated in the exploration of the deposits.
Chinese mining company Ganfeng has been developing Mexico's largest lithium project at a clay deposit in Sonora, holding the rights to as much as three-quarters of the lithium extracted at Sonora Lithium.
Last week, the chief executive of the state-run company for lithium production, Pablo Taddei, told Reuters that Mexico was open to partnerships but that the federal government would have a majority stake in any future joint venture.
For more stories on economy & finance visit RT's business section
You can share this story on social media: