European electricity giant posts record losses
Electricite de France suffered a net loss of almost €18 billion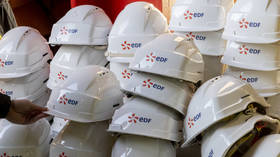 Electricite de France (EDF) has reported a record single-year loss of €17.9 billion (around $19 billion) for 2022, pushing the power giant's overall debts to €64.5 billion.
The losses, which contrast with a profit of €5 billion in 2021, are the third largest in French corporate history and the worst for more than two decades. The fall comes despite a 70% surge in EDF's revenues, which totaled €144 billion due to increases in global energy prices.
The largely state-owned electricity producer endured a tough 2022 due to an unprecedented number of outages at its reactors, as well as the cap introduced by France to help businesses and households tackle soaring energy prices.
Due to the significant decline in electricity output, EDF was forced to buy energy to make up for the shortfall on the French market, while electricity prices reached record highs.
In 2022, the company spent €121 billion on purchases of fuel and energy alone, three times the amount from 2021. Last year, France became a net importer of electricity for the first time in more than four decades.
In July, the French authorities announced plans to gain full control of EDF, the country's largest energy utility, to support the company and ensure the nation's energy sovereignty amid the conflict in Ukraine and climate change.
However, the process was put on hold due to a lawsuit filed by EDF shareholders and employees, who found the terms of the company's nationalization unacceptable. The French government currently owns 96% of EDF shares.
For more stories on economy & finance visit RT's business section
You can share this story on social media: