EU reports wave of bankruptcies
All sectors of the bloc's economy recorded a spike in defaults last year, official statistics reveal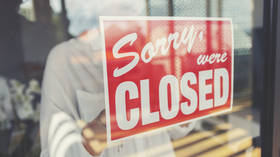 The number of insolvencies among EU businesses surged to the highest level during the final three months of 2022 since records began in 2015, as the bloc teeters on the edge of a recession, statistics agency Eurostat reported on Friday.
Defaults jumped by 26.8% compared to the previous quarter, while levels of business registration decreased by 0.2% in the same period last year.
Eurostat said the trend persisted throughout the year, adding that "the number of bankruptcy declarations increased during all four quarters of 2022."
The agency also noted that all areas of economic activity were affected.
"Looking specifically at bankruptcies by activity, all sectors registered increases in the number of bankruptcies in the fourth quarter of 2022 compared with the previous quarter," the report said.
The severe energy crunch and an ensuing cost-of-living crisis contributed to a surge of insolvencies across the EU. The sectors with the highest levels of defaults were transportation and storage, which saw a 72.2% surge, and accommodation and food services with a 39.4% rise. Education, health, and social activities saw a 29.5% increase.
Compared with the pre-pandemic fourth quarter of 2019, the number of bankruptcy declarations in the last three months of 2022 was higher in the majority of sectors of the economy, according to Eurostat.
Accommodation and food services were hit the hardest in the final three months of 2022 compared to the same period of 2019, with a 97.7% increase in insolvencies among EU businesses.
For more stories on economy & finance visit RT's business section
You can share this story on social media: