Russia and Africa to benefit from direct trade – economist to RT
The Kremlin should facilitate business ties with African countries, bypassing middlemen, according to a Russian academic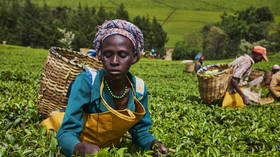 Russia should work on strengthening ties with African countries by establishing new legislation and boosting direct trade, the head of the Institute for African Studies of the Russian Academy of Sciences said in an interview with RT.
According to Irina Abramova, trade between Russia and Africa is misbalanced, despite last year's growth, with Russian exports four to five times higher than imports from the continent.
"The problem is we're buying African goods almost exclusively through middlemen… Instead, we should be trading directly with Africans," she stated. Abramova noted that Russia is the third largest global consumer of cocoa, but instead of buying it directly from Africa, it is paying up to three times more for the product by importing it from third countries.
According to the economist, African countries can provide unique resources that Russia needs. The region is a supplier of vital agricultural goods and strategically important metals used to manufacture sophisticated high-tech equipment for both military and civilian use that Russia does not possess, such as cobalt, lithium, manganese and bauxide. Abramova suggested that acquiring such resources would be far easier if Russia were to trade with Africa directly.
Also, strengthening ties with Russia would be beneficial for Africa, which could profit from Russian technology.
"By capitalizing on our technology, Africa would be able to move to a new level of development instead of remaining a resource colony within the wider Western system… In terms of technology, Russia is particularly competent in areas that Africa needs most," she stated, noting that these include energy, water purification, agriculture, medicine, space technology, IT, smart cities and various other engineering solutions.
"We've created a certain type of fertilizer that when placed in the soil stores moisture for up to three months – vital for African countries, most of which are located in arid zones," she said, citing one example.
Abramova explained that when it comes to energy and food security, developmental issues, or the processing of mineral resources, something that Africa has huge reserves of, Russia is able to provide expertise, as well as geologists, mining companies and equipment, "that could really help them out."
"The same goes for transportation – we've got trucks, trains – all of that is very much needed in Africa, and Russia in turn would get a massive new market to sell and try out technologies," she stressed.
However, in order to boost cooperation, Russia needs to establish an official framework which will govern trade and other interactions between Russian and African companies.
"We need to set up a government organization that will help encourage our companies to do business with Africa, which would provide support for our industrial, technological and private initiatives in Africa. Government support is a must," she stated, adding that mechanisms are already being figured out in terms of finances, logistics, risk management and insurance.
For more stories on economy & finance visit RT's business section
You can share this story on social media: