Spain considers drastic move to rein in food prices
A government official calls for price intervention on essentials, saying "families can't wait"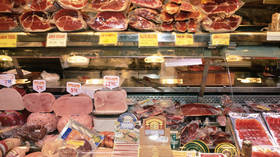 The Spanish social affairs minister, Ione Belarra, has called on the government to bring down prices of basic products by introducing discounts, as food costs continue to rise in the country amid double-digit inflation.
A reduction in value added tax (VAT, known in Spain as IVA) has proven insufficient as prices for essentials are still "the highest," Belarra posted on Twitter on Thursday. She urged the ruling Spanish Socialist Workers' Party (PSOE) to subsidize the basic consumer basket by 14%.
The minister also proposed bringing prices down to levels seen prior to the conflict in Ukraine, adding that Spanish "families can't wait any longer." She argued that the proposed subsidy would help mitigate the impact on consumers of soaring inflation, and even suggested a price intervention.
Food inflation in Spain has remained over 15% despite an IVA cut on some basic products. In January, inflation eased from 15.7% recorded in December, but was still raging at a rate of 15.4% for food and non-alcoholic drinks, the National Institute of Statistics (INE) reported on Wednesday.
Cash-strapped households in Spain have taken a hit from surging costs of most meats, fish, yogurt, butter, cereals, coffee, tea and baby food, as these items were not classified as basics and did not receive a tax cut.
The overall January inflation reading was higher than INE expected, and stood at 5.9% with a 0.6% rise from December.
For more stories on economy & finance visit RT's business section
You can share this story on social media: