Trade between Russia and EU tumbles – official
The volume of commerce has been decreasing dramatically, according to a deputy PM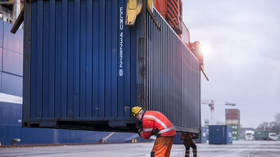 Trade turnover between Russia and the EU fell by a third in April-December 2022 amid Western sanctions on Moscow, First Deputy Prime Minister Andrey Belousov has revealed.
Russia's commerce with the EU has been declining significantly, the official said. "At the same time, trade turnover in the eastern and southern directions is growing," Belousov said on Wednesday.
The deputy PM highlighted that during the period of April-December of last year Russian trade turnover with Türkiye, Egypt, and the countries of the Persian Gulf nearly doubled, while volumes with Southeast Asian countries and China rose by more than 17%.
Official statistics show that in 2020 the EU was Russia's leading trade partner, accounting for 37.3% of the country's total trade in goods. Over 36% of Russia's imports came from the EU and 37.9% of its exports went to the 27-nation bloc.
The total trade in goods between Russia and the bloc amounted to €257.5 billion ($275 billion) in 2021, according to European Commission data. The EU's imports were worth €158.5 billion ($170 billion) and were dominated by fuel and mining products, particularly mineral fuels, wood, iron and steel, and fertilizers.
Meanwhile, last summer the EU exported 43% fewer goods to Russia versus the same period a year ago. In comparison, China exported 23% more goods to Russia last summer versus 2021, according to a report by the Kiel Institute for the World Economy.
For more stories on economy & finance visit RT's business section
You can share this story on social media: