Half of Russians no longer need Western brands – survey
A growing number of consumers are turning to domestic manufacturers to replace foreign products after the exit of Western companies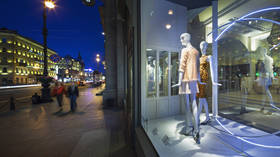 Nearly half of Russians have successfully found domestic substitutes for foreign products made unavailable due to sanctions, RIA Novosti reported on Wednesday, citing a poll by the NielsenIQ research company.
According to the findings, over the past year, 47% of Russians "have completely switched to locally produced brands or began to buy products of local production more often." About a third of respondents did not change their preferences and continued to buy the same brands they used to before 2022, and 17% switched to new brands, but also of foreign production.
Respondents offered several reasons for turning to local brands. Over half of them said they did it to support domestic producers, while 20% pointed to an inability to find foreign analogues at a reasonable price. Another 10% stated that they could not find foreign goods that match the quality and characteristics they value, but see them in Russian products.
After the start of Moscow's military operation in Ukraine, many major Western brands announced their withdrawal from the Russian market and the suspension of investment and imports. According to economists from Switzerland's University of St. Gallen, more than 1,400 companies have decided to quit Russia over the past year, including electronics manufacturers, retailers, automakers, clothing and food brands, hotels, banks, and restaurant chains. Yet, despite concerns that the trend would damage the Russian economy, it spurred development in domestic industries.
Analysts say the current situation presents a good opportunity for growth for Russian producers. Earlier this month, Russian President Vladimir Putin said the departure of Western brands has meant "our domestic manufacturers received unique opportunities for development and we must take advantage of them." Putin added that the country's producers have been given a chance to occupy niches, which until recently were closed to them due to competition from global players.
Industry experts warn that the only concern now is whether domestic manufacturers are ready to meet increased demand, and urge companies to invest in expanding their production capabilities.
"If production facilities cannot meet the growing demand, it is necessary to invest in development; saving money may lead to a desire to simplify the process, and this is fraught with the loss of quality," Alexei Popovichev, head of the RusBrand association of manufacturers, told RIA.
For more stories on economy & finance visit RT's business section
You can share this story on social media: