US to tap oil reserves to offset Russian production cut
The country's emergency stockpile is currently at its lowest level since 1983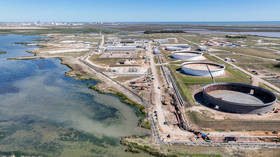 The administration of US President Joe Biden said on Monday that it will go ahead with a scheduled sale of 26 million barrels of crude oil from the country's Strategic Petroleum Reserve (SPR). The move comes on the heels of Russia's announcement that it will curtail output by half a million barrels per day next month.
The release has been mandated by Congress and is in line with budget directives enacted in 2015 for the current fiscal year, a spokesperson for the US Department of Energy said. Last year, the Biden administration sold a record 180 million barrels of crude from the SPR in an effort to tame rising fuel prices.
However, the Department of Energy had previously been considering canceling the scheduled sale of the 26 million barrels this fiscal year in order to refill the emergency reserve after last year's record draw saw the SPR reduced to just 371 million barrels, the lowest level since 1983. The announced sale will bring reserves down to about 345 million barrels.
"Biden is front-loading SPR barrels to avoid a summer gasoline price spike," Phil Flynn, an analyst at Price Futures Group, said. He added that "there are growing concerns among the Biden administration that gas prices are headed back to $4 a gallon and the president is fearful of the political heat he will have to take."
The latest release comes after Russia unveiled plans to curb oil production by 500,000 barrels a day, or about 5%, next month in retaliation for Western sanctions. Many analysts see the move by the US authorities as a measure to offset Moscow's output cut.
The US was seeking to repurchase oil for the emergency reserve once the price stabilized at about $70 per barrel. However, WTI crude prices surged to nearly $80 per barrel after Russia's announcement.
A number of economists also believe that the EU has downplayed the importance of Russia's production cut, which comes at a time of rapid economic recovery and growing energy demand in China.
For more stories on economy & finance visit RT's business section
You can share this story on social media: