High US inflation could last a decade – investment expert
The Federal Reserve will find it tough to rein in soaring prices, according to Smead Capital Management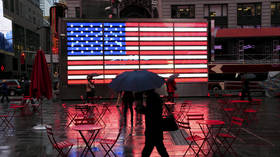 The high rate of inflation in the US is likely to be "far stickier" and longer-lasting than many have predicted, the chief investment officer at Smead Capital Management, Bill Smead, told CNBC on Tuesday.
The comments came ahead of a much-anticipated report by the US Labor Department, which reported an annual inflation growth of 6.4%.
"The enthusiasm… right now is the hope that we'll get a friendly Fed out of a soft landing, and we do not believe that is going to be the case," Smead stated.
"We think the inflation is going to be far stickier and longer-lasting – in fact, a decade, because in the United States, we have incredibly favorable demographics," he said.
Earlier this month, the Federal Reserve raised its benchmark interest rate by a quarter percentage point. Fed Governor Michelle Bowman has warned the regulator will need to continue to hike interest rates to bring inflation back down to the central bank's 2% target.
According to Smead, the Fed will find it tough to tame inflation despite the recent rate hikes.
"We have 92 million people between 22 and 42, and they're all going to spend their money on necessities the next 10 years, whether the stock markets are good or bad," he noted. "They're just going to be living their life. The economy should be pretty good and the Fed's going to have a hard time controlling inflation."
The Labor Departement reported on Tuesday that the consumer price index (CPI), which measures the cost of dozens of goods and services spanning the economy and is a widely-followed inflation gauge, has risen 0.5% on the month in January. The core index, which strips out food and energy, has increased 0.4%.
For more stories on economy & finance visit RT's business section
You can share this story on social media: