West's gasoline shipping costs soar after Russia embargo – Bloomberg
Tankers earmarked for Russian trade have left fewer vessels to serve other suppliers, the outlet reports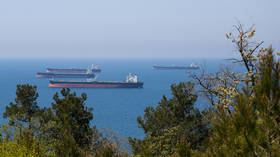 The cost of transferring gasoline on ocean-going vessels skyrocketed days after EU sanctions targeting Russian petroleum sales went into effect, Bloomberg reports.
Medium and small tankers carrying refined fuels on the Atlantic Ocean are raking in profits, with daily earnings reaching $55,857 – a surge of 405%, the outlet wrote, citing data from the Baltic Exchange in London. Profits soared by 58% on Thursday alone, the largest one-day gain since late 2021.
The EU and G7 nations introduced a price cap on Russian petroleum products on February 5, setting a limit of $100 per barrel for diesel, jet fuel, and gasoline coming from Russia, and a $45-per-barrel price cap for other oil products that trade below the crude price. Fuel exports priced over these limits are barred from receiving insurance and shipping services from companies in Western countries.
Gasoline transfer price hikes have been triggered by a shortage of tankers, as vessels earmarked for the delivery of Russian oil products reduced supply elsewhere, exposing the flipside of the aggressive measures aimed at limiting Russia's petroleum revenues.
"Russian volumes continue to flow at more or less the same rate and that takes up a lot of ships," an analyst at Arctic Securities, Lars Bastian Ostereng, told Bloomberg, adding that "the spike shows demand is pretty good, and the fundamentals are strong."
A 'shadow fleet' of 600 vessels is now involved in transporting Russian petroleum, leaving fewer vessels to serve other oil exporters on international markets and pushing up the cost of freight, analysts say.
"What we hear is that many vessels suddenly were removed from tonnage lists and drawn towards Russia," a shipping analyst at Pareto Securities AS in Oslo, Eirik Haavaldsen, noted, adding that "so suddenly vessel supply was almost gone yesterday."
The surge has also been spurred by a buying frenzy in the EU, as the bloc rushed to ensure supplies ahead of the ban, displacing vessels in an already thinly stretched fleet.
For more stories on economy & finance visit RT's business section
You can share this story on social media: